Discover the Power of the Subtle Breath with 
Restorative Breathwork® Foundations 
Are you seeking True inner stillness, a state beyond relaxation that fosters physical, mental, and spiritual vibrancy. Embark on an inner journey into stillness with our Foundations training.This immersive program invites you to explore the subtle dimensions of the breath—a path that leads to profound peace and a renewed inner radiance. Are you ready to embark on this transformative journey? Enroll today and take the first steps in learning how to guide others into profound states of inner stillness that are life-transforming through the subtle breath.
Developing Inner Mastery with Restorative Breathwork Foundations
Empower yourself and others to experience a profound sense of inner peace, clarity, and renewal by harnessing the power of the subtle breath. Imagine being equipped with the skills to guide others into a quality of stillness that fosters vibrant health and inner radiance while deepening your practice.
Join Kathleen Barratt and her team as we delve into the foundational practices of Restorative Breathwork. Together, we'll navigate the core principles of this ancient practice, empowering you toward personal mastery and laying the groundwork for guiding others upon an inner journey of self-exploration and healing.
Immerse yourself in this ancient practice and witness the transformative journey it initiates, both for you and for those you guide.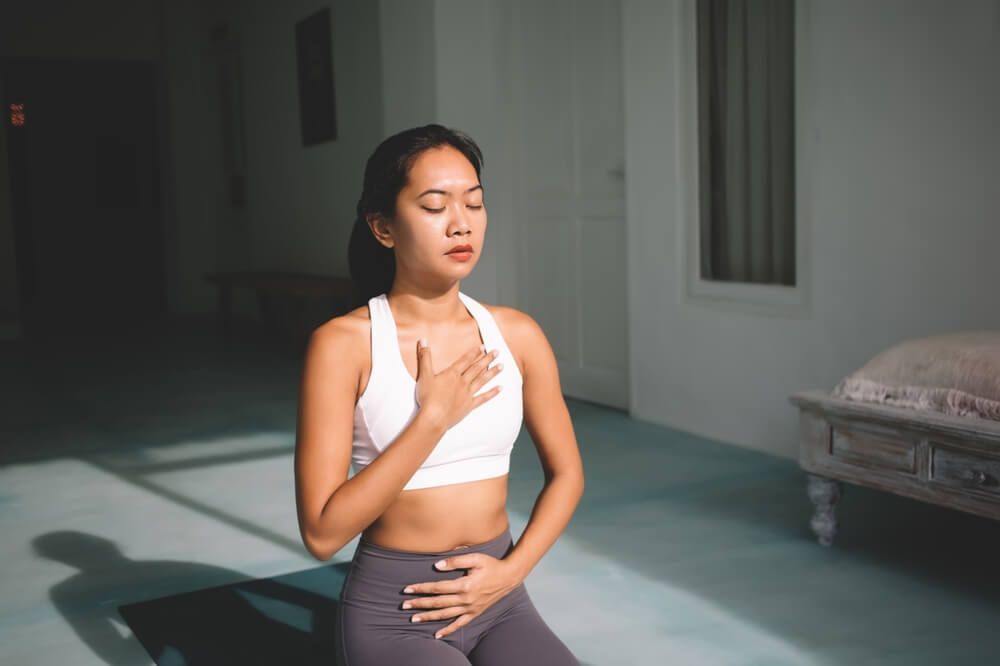 Restorative Breathwork Foundations Training Structure
Our Restorative Breathwork® Foundations Training offers an extensive, flexible learning platform structured into six modules, delivered over six weeks. This systematic progression enables you to gradually deepen your knowledge and skillset, offering an approach that is both effective and easy to integrate.

Constructed with a blend of self-paced learning and interactive teachings, this training is an on-demand, pre-recorded program, designed to suit your pace and schedule. The course provides access to an online learning platform, featuring content-rich modules, instructional videos, and guided breathwork audios. These resources help you delve into your personal practice and firsthand experience the transformative power of Restorative Breathwork®. As you progress through the later modules, you'll start to learn how to apply these personal insights into facilitating others' journeys.
A unique aspect of our training is the personalized feedback loop. As you engage with each module, you're encouraged to pose questions to Kathleen and staff. In response, we record your answers on a loom video and email them directly to you. This personalized feedback mechanism, rarely seen in on-demand courses, ensures you feel supported and engaged throughout your learning journey.
Whether you're a yoga professional, therapist, coach, or mind-body practitioner seeking to deepen your own practice or looking to expand your toolkit with an innovative approach, our program equips you with the understanding and skills necessary to unlock the vast potential of Restorative Breathwork®. Enroll today and discover the transformative power of Restorative Breathwork® for restoring physical, mental, and spiritual vibrancy. 
Topics Include:
The essential elements of Restorative Breathwork®, its definition, philosophy, and practices
Moving into stillness: first the body, then the breath, then the mind, and then emptying into the deep inner silence of meditation
Exploring the intricate and reciprocal relationship between breath, prana, and the vagus nerve
Restoring the resiliency to our natural breath: the key to regulating an overwhelmed nervous system
The innate intelligence of the breath, a remarkable and sophisticated system
An introduction to the ancient meditative practice of Breath Awareness

Cautions, risks, and ethics of facilitating Restorative Breathwork. Being trauma informed.
What you will receive in this online self-study course
Lifetime access to the course and all course updates

Restorative Breathwork

®

scripts that will help expand your practice

A library of guided breathwork audios that you can access anytime

A comprehensive training manual covering the foundational components of Restorative Breathwork

Approval for 24 Yoga Alliance and IAYT CEUs
"The process of breathing, if fully understood and experienced in its profound
significance, could teach us more than all the philosophies of the world."
—Lama Govinda
  Restorative Breathwork® Foundations

Discover the power of the subtle breath to rejuvenate the body, mind, and spirit


 
GET STARTED TODAY
I honor Kathleen as one of my spiritual teachers and am always elated when my students work with her, as I know that they are taking their yoga practice and life to a deeper level.
Angela Phillips
Founder, Angela Phillips Yoga Center
The material in this course helped me improve my skills in teaching meditation, relaxation, and breathing techniques both in one-on-one clinical sessions as well as in a group atmosphere.
Lauren Eirk, MS, MATRx, E-RYT 500, C-IAYT, YACEP

Yoga
Integrated Science Wellness Center 
Founder | Director of Teacher Training
After having been in the healing field as a nurse, and having received energy work from powerful healers, I was surprised to find that Restorative Breathwork allowed me to have the most direct experience with the energy that is the giver of life.
N. Byrne
R.N. and Massage Therapist
Restorative Breathwork Foundations 




On-demand
Limited Time Offer: $197 (regularly $297)
If you're ready to take your mind-body practice to the next level and make a positive impact on others, there's never been a better time to join us. Don't miss this limited-time opportunity to elevate your practice with Restorative Breathwork Foundations.
Approved for 24 Yoga Alliance and IAYT CEUs