Master the Art of the Subtle Breath
Become a Restorative Breathwork® Facilitator 
Next Training Starts January 8, 2024 
Master the art of the "subtle breath" and become a catalyst for transformation while deepening your own practice. Through experiential learning, you'll move deeper into the subtle practices of Restorative Breathwork® and cultivate the skills and confidence you need to guide others into the transpersonal dimensions of the breath. Join Kathleen on a journey into the heart of Restorative Breathwork and discover the vast potential of the subtle breath to awaken the still point within – that silent space of being where our True Self resides, intimately connected to Divine presence.

Apply
 Restorative Breathwork® Defined
Restorative Breathwork offers a yin-approach to breathwork with its roots in the Eastern sciences of breath meditation. At its most basic level, Restorative Breathwork restores balance and resiliency to the nervous system, promoting vibrant health and well-being. On a deeper level, it is a profound spiritual practice, restoring and deepening our connection with our True Self, opening a pathway to inner illumination and transformation. 
More About Restorative Breathwork ®
How mind-body practitioners can
benefit from Restorative Breathwork®
Restorative Breathwork is an incredibly powerful somatic practice that integrates beautifully into a coaching session and other mind-body professions. As a mind-body practitioner, you can offer your clients a unique and powerful tool for promoting inner peace and well-being by incorporating Restorative Breathwork into your practice. Whether you are working with clients one-on-one or leading group sessions, this subtle practice is a versatile and effective addition to your toolkit.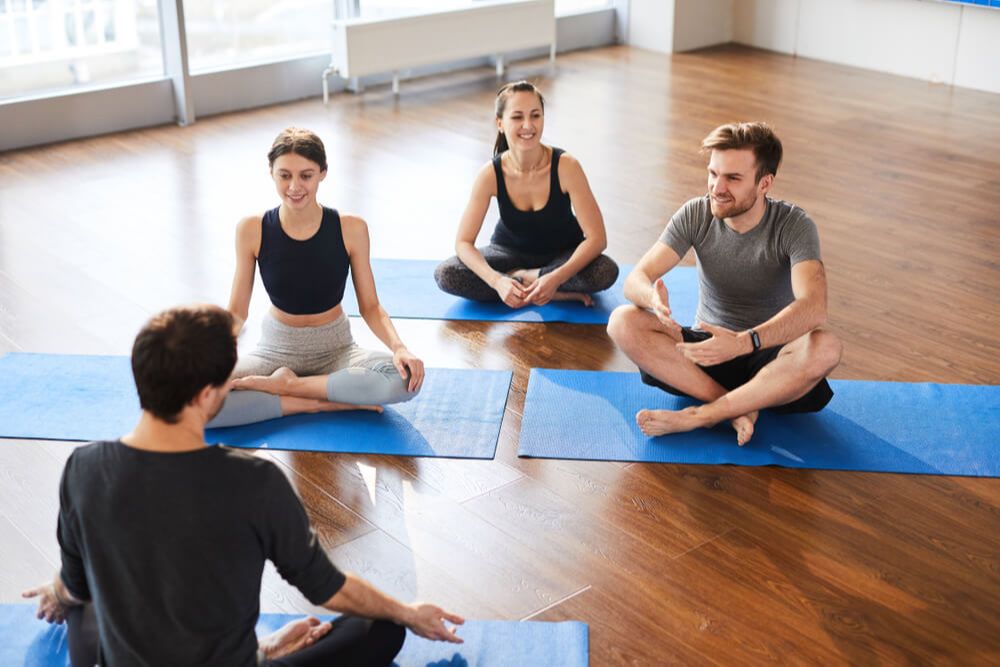 How yoga teachers and yoga therpaists can benefit from Restorative Breathwork® 
With Restorative Breathwork®, you can offer an added dimension to your classes, workshops, and private sessions by guiding your students through deep and transformative states of inner stillness through the breath. This certification training will provide you with invaluable tools in developing a rich breath meditation practice. You will also be provided with the tools necessary to take what you have learned and, in turn, teach it to your students. This dynamic program will deepen you as a teacher and expand your skills. Importantly, it will set you apart as a yoga professional as you invite your students to move deeper into the inner practices of yoga.
Apply Here
Deepen your practice and expand your
professional skills
This program focuses on students cultivating a rich personal breath practice. A consistent practice becomes an invaluable vehicle in which to develop mastery of the deeper practices of Restorative Breathwork. The most vital factor in developing skills in facilitating breathwork will be the depth and discipline of your personal practice.
Restorative Breathwork® Facilitator Training Overview
This comprehensive program combines in-depth theoretical learning with practical hands-on experiences. The training unfolds in structured modules, each building on the last, providing a deep and holistic exploration into the study and practice of Restorative Breathwork. Supplementing your learning, you'll find richly detailed content, instructional videos, and guided breathwork audios.
A key feature of our training is the interactive live practice/mentor sessions. These provide a dynamic and supportive environment where you'll have the opportunity to refine your skills and receive real-time feedback from experienced teachers and peers. As you traverse this transformative path, you'll also be part of a vibrant online community. Our private Facebook group provides a space for discussion, shared learning, and mutual encouragement among fellow students.
Towards the end of your training, you'll engage in a supervised practicum. Here, you'll guide Restorative Breathwork sessions under the mentorship of experienced facilitators, putting your knowledge into practice and receiving constructive feedback.
Finally, upon successful completion of the program, you'll emerge as a Certified Restorative Breathwork Facilitator. This widely recognized certification will empower you to guide others in their journey of transformation through the power of breath. We invite you to embark on this transformative journey with us, as you unfold your potential to foster physical, mental, and spiritual vibrancy in others.
Approved for Yoga Alliance and IAYT CEUs
This course is eligible for 200 CE hours with Yoga Alliance and with the International Association of Yoga Therapists.
Training Structure
The Restorative Breathwork Facilitator Training is designed to take you on a step-by-step journey towards mastery in guiding others through transformative breathwork sessions.This dynamic training is a robust 200-hour journey that unfolds over six months, thoughtfully designed to cultivate both personal and professional expertise in Restorative Breathwork. It's crucial to note that this comprehensive training condenses its rich content into a six-month timeframe, demanding consistent engagement for you to harvest its full potential. The commitment typically spans between 6-8 hours per week, depending on your pace of learning. By devoting the time and space for diligent study and practice, you exhibit a commendable dedication to mastering this transformative art.
Online Learning Platform
The self-paced component of our training program includes an online learning platform, where you'll find content-rich modules, instructional videos, and guided breathwork audios. The platform allows you to work through the material at your own pace, revisiting lessons as needed and progressing through the course as you feel comfortable.
Private Facebook Group
In addition to the online learning platform, you'll also have access to a private Facebook group where you can connect with other students and receive peer support as you go through the training. This supportive community is a great way to stay motivated and get feedback from others who are also going through the training.
Live Practice/Mentor Sessions
The interactive component of our training program consists of live practice/mentor sessions that provide a dynamic and interactive format for developing your professional skills in facilitating Restorative Breathwork. You'll have the opportunity to practice your skills in a safe and supportive environment, receiving feedback from experienced teachers and peers.
Supervised Practicum
The practicum component of our Restorative Breathwork Facilitator Training is the perfect opportunity for you to put your newfound knowledge and skills into action. This hands-on experience allows you to guide Restorative Breathwork sessions and receive constructive feedback from your mentors. Our supportive and encouraging instructors will guide you every step of the way, helping you build confidence in your abilities and fine-tune your style.
Topics Include:
The scientific and esoteric theories of the Eastern science of breath
The Three Realms of the Breath, a unique mapping of the subtle/pranic body
Bringing into play the interrelationship between breath and energy
The Vagus Nerve, an inborn pathway to physical, mental, and spiritual vibrancy

Guidelines for facilitating others into the more subtle dimensions of the breath

Keys to facilitating the directive of the innate intelligence of the breath 

The art of sequencing, timing, and flow in facilitating a Restorative Breathwork® session
The vital role of language, voice, and presence in facilitating Restorative Breathwork
Guidelines for facilitating a progressive series of breath sessions one-on-one and in small groups
Apply Here
What you will receive in this training
Support and resources for building a successful breathwork facilitation practice, including marketing and business development strategies.

Lifetime access to all training modules of in-depth teaching from an expert in the field of breathwork

Restorative Breathwork

®

scripts that will help expand your practice

A library of guided breathwork audios that you can access anytime

A comprehensive training manual covering all aspects of Restorative Breathwork facilitation
Opportunities for ongoing mentorship and community building with fellow facilitators.
Tools for ongoing personal and professional growth and development as a facilitator
This empowering and transformative program creates the experiential framework for vibrant and profound experiences that will enrich a personal and professional practice for years to come.
The material in this course helped me improve my skills in teaching meditation, relaxation, and breathing techniques both in one-on-one clinical sessions as well as in a group atmosphere.
Lauren Eirk, MS, MATRx, E-RYT 500, C-IAYT, YACEP

Yoga
Integrated Science Wellness Center 
Founder | Director of Teacher Training
I loved everything about this training and I recommend that everyone should take it. It's brilliant, loving, nurturing, and sacred work that is transformational for soul evolution. I rate this to be the top training in all of my trainings in 22 years or more.
Kalpana Reddy
Reiki Master, RYT, Certified Yoga Therapist, Certified iRest® Teacher,
Certified Empowerment Life Coach & Workshop Trainer
The Restorative Breathwork training has profoundly changed my understanding of disease and its treatment and I have been able to help many of my patients through application of what I've learned. The training has also transformed my life and taken me to the next level on my spiritual journey. I highly recommend this program.
E. Torre Hinnant, MD
Board Certified in Family Medicine and in Integrative and Holistic Medicine
"If you are called to this work of learning the powerful art of supporting your own, and others', healing through the breath look no further—Kathleen's program and her teachings are the real deal: steeped in years of study and experiential knowing. I am grateful she has been, and continues to be, a mentor and guide on my path."


—Nona Jordan, Master Coach, Guide, and Author
Restorative Breathwork is a powerful system to help heal yourself and to learn to help others. My training with Kathleen has particularly helped me as a yoga instructor with private clients. The teachings are applicable whether they are looking simply for stress relief or deep spiritual healing and growth.
Jill Loftis, Owner/Director, Uttara Yoga Studio
Kathleen led a three-part basic breathwork class for eight clients at the mental health free clinic run by my agency. The outcomes have been nothing short of amazing! After three months clients report improved sleep, better control of anger and stress, a marked reduction in panic attacks, and the need for less medication to manage symptoms of anxiety. Best of all, Kathleen provided our clients with tools which continue to empower them in their journeys toward mental wellness. We will definitely offer this class again!
Diane Kelly, Executive Director Mental Health America of Roanoke Valley
Restorative Breathwork Facilitator Training

 
Begins January 8, 2024 
This 200 hour training takes 6 months to complete. It is led by Kathleen Barratt and experienced facilitators and teachers who will provide personalized coaching and support. throughout the training. Plus, you'll have the opportunity to connect with other like-minded professionals and build a network of supportive peers. Enroll in our Facilitator Certification Training today and start your journey towards breath mastery and professional success as a Restorative Breathwork® Facilitator.
Prerequisite: Enrolled students are required to complete our On-Demand Foundations Training ideally before the first live weekend class. There is a 50% discount for those who are registered and have committed to the Facilitator Training.  
 CEU's: This course is eligible for 200 CE hours with Yoga Alliance and with the IAYT
BOOK A CALL
We'll go through the program details together and answer any questions you may have.
ENROLL
If we are a good fit, the last step is to formally register through the Institute.